Types of Visas in the UAE
Get the Best Insurance Plan that fits for your Need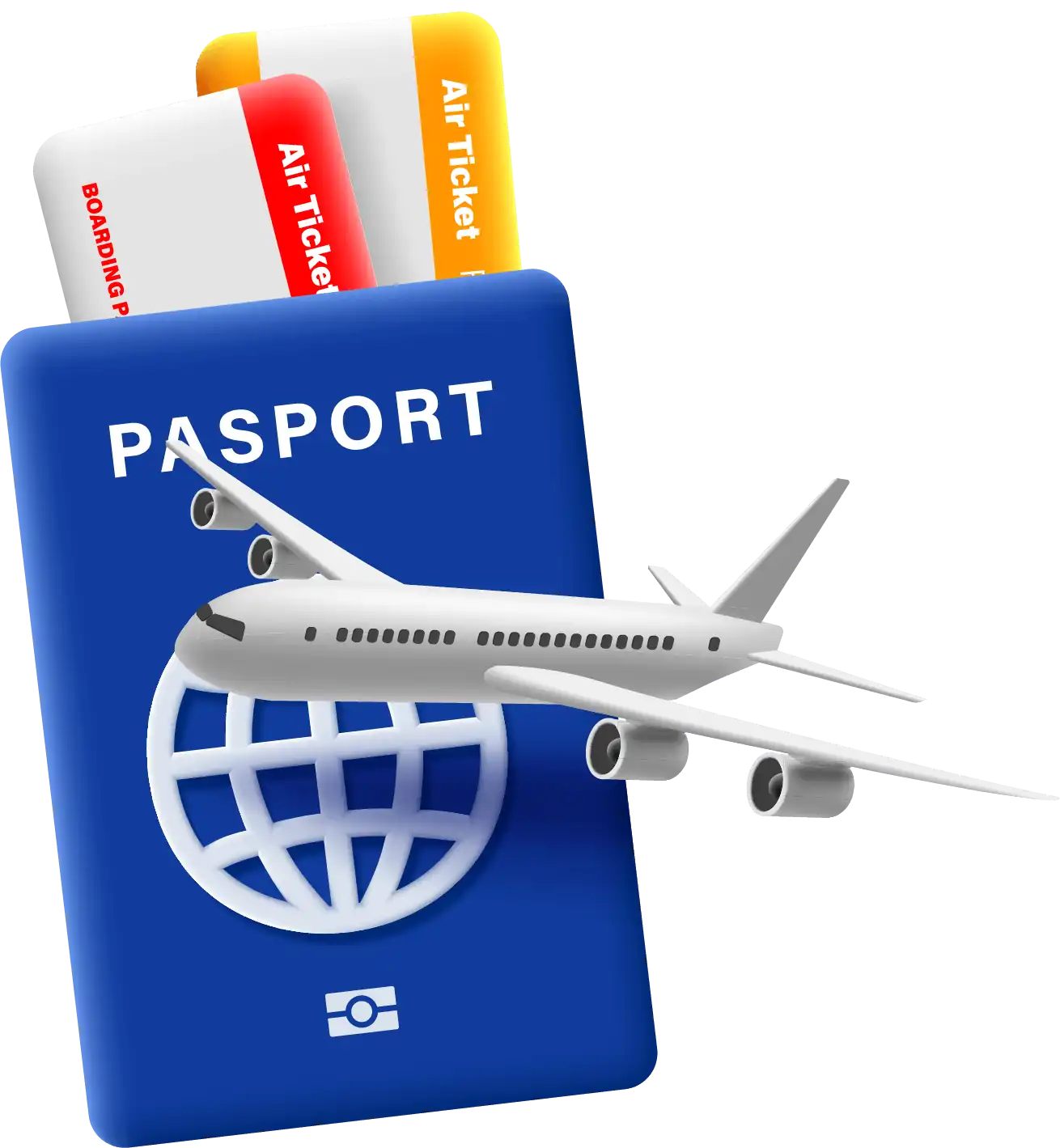 Get a Quote for
Travel Insurance
UAE Visas
and its Importance
The UAE is a modern cosmopolitan country that offers something for everybody. It provides excellent career prospects, business opportunities, and exceptional quality of life for expatriates who want to live & work. The magnificent architecture, stunning skyscrapers, shopping festivals, adventure sports, beaches, and entertainment options attract millions of tourists annually.

No matter what you want to do in the Emirates, you need a valid visa. There are primarily two types of visas in the UAE. Short-term visits require an entry visa, and long-term stays mandate residence visas. Every visa type has its eligibility criteria, application process, and validity period. Let's understand the different visa types and their requirements in detail.
Types of
Visas in the UAE
The UAE entry visa for short-term stay is of the following types
5-Year Multiple Entry Visa
GCC Visa (for UAE Residents)
A residence visa is essential for working professionals, entrepreneurs, investors, and students who want to live, work, or study in the UAE. The list is as follows:
What is
a Visit Visa in the UAE?
Foreigners can obtain a single-entry or a multiple-entry visa to visit the UAE for a specific purpose. A visit visa is also known as an entry permit. The purpose of the Visit Visa UAE includes tourism, business trips, job hunting, training, medical treatment, and transit.
Types of Visit Visas or
Entry Visas in the UAE
The details of various types of visit visas in the UAE are provided below.
Unless foreign tourists are eligible for a visa-free entry or a visa on arrival, they need a tourist visa to explore the grandeur and beauty of the UAE. The Tourist Visa UAE is valid for 30 or 90 days, and tourists can get multiple entries.
5-Year Multiple Entry Visa
This type of visa provides flexibility to people to visit the UAE multiple times on their own sponsorship. They can stay for a maximum of 90 days on every trip and can even extend their stay for another 90 days.
GCC Visa (for UAE Residents)
This entry permit is specially designed for individuals having a valid GCC residency and passport.
The UAE Job Seeker's Visa allows you to enter the country and scout for job opportunities. This Visit Visa UAE is granted for 60, 90, or 120 days. The applicants must be at least graduates and expect to earn a minimum of AED 5,000 per month.
You can enjoy a brief stay in the UAE during your transit to another destination. You can either apply for a free 48-hour transit visa or a 96-hour transit visa by paying AED 50.
Note: Visa policies and costs are subject to change without notice. Before applying, kindly confirm the most recent information.
What is
Residence Visa UAE?
The Residence Visa UAE permits foreign individuals to stay in the Emirates for an extended period. They can live, work, or study in the UAE for up to 10 years and later renew their visa as many times as they want. This visa can be obtained by working professionals, businessmen, entrepreneurs, investors, students, and also retirees.
Types of
Residence Visa in the UAE
The details of different types of residence visas in the UAE are provided below.
Highly skilled foreigners can stay, study, or work in the UAE and enjoy special privileges by obtaining this visa. It is valid for 5 to 10 years. Investors, entrepreneurs, scientists, outstanding students or graduates, and frontline heroes are eligible for a golden visa.
A green visa allows individuals and their families to sponsor themselves without the need for sponsorship from a UAE citizen or employer. The family members get the same validity period as the main sponsor. It is ideal for skilled workers, freelancers, investors, and entrepreneurs.
You can obtain this visa if you want to invest in businesses or properties in the UAE. It has a validity period of 5 to 10 years.
Students who wish to study in any college or university in the UAE must obtain a student residency visa. The applicants must be at least 18 years of age. The student visa is issued for one year and has to be renewed annually.
Expats who hold a residency visa can sponsor their immediate family members, i.e. spouse, children, and parents. Family visas are typically linked to the visas of their sponsors.
Retired individuals who are above 55 years of age can obtain a retirement visa. The applicants must have at least 15 years of work experience. The visa has a validity of 5 years and can be renewed later.
Foreigners who work remotely for an organization outside the UAE can stay in the country under self-sponsorship. They must have a minimum monthly salary of $3,500 or its equivalent. The visa is valid for one year.
UAE Visa
Types Cost & Fees
The fees associated with different types of visas in the UAE are provided below. Please note that the fees are subject to change without prior notice.
Tourist Visa: AED 250-690
5-Year Multiple Entry Visa: AED 300-700
Job Seeker's Visa: AED 200-400
UAE Golden Visa: AED 1,250
UAE Green Visa: AED 2,280
UAE Investor Visa: AED 9,953
UAE Student Visa: AED 2,855-3,860
UAE Retirement Visa: AED 3,714
Note: We would like to inform you that the costs are subject to change at any time.
Frequently Asked Questions on
Types of Visas in the UAE
Disclaimer: The nations, visa costs, and other information presented here are derived from a variety of sources. This is not a recommendation or promotion from Prominent Insurance Brokers. Before purchasing your tickets or requesting a visa, please confirm the same.