Get the Best Insurance Plan that fits for Your Need
Get a Quote for
Motor Insurance
Motor insurance safeguards you and your vehicles, both personal or commercial, from financial losses and damages from unforeseen events like accidents, thefts, natural disasters, malicious acts and fire etc. Motor insurance is divided into two major categories, which can be further divided into a few others.
Why Do You Need to Buy
Motor Insurance?
In UAE, if you want to drive a motor vehicle legally, you need to purchase motor insurance. According to UAE laws, driving a motor vehicle without buying a motor vehicle insurance policy may result in penalties, the addition of black points to your driving license, and in some cases, even confiscation.
Motor insurance, like third-party liability insurance and others, can help you pay for personal damage to the third party and damages to third-party property or vehicle. It also covers the vehicle repair and medical treatment costs which is bodily injury that might occur due to an accident and other emergency medical benefits or collision up to a specified limit.
Importance of
Motor Insurance
Here's a list of reasons why it's very important to buy motor insurance:
It allows you to drive your motor vehicle without breaking the law.
You can protect yourself from any financial crisis that shows up due to an unfortunate event related to your motor vehicles.
These insurance policies usually come at low costs. For example, a car insurance policy in UAE costs around 1.25% – 3% of the total cost of the car and for a few of them, a minimum premium applies.
It can safeguard your vehicles from the damages caused due to natural disasters, theft, fire, or any sort of malicious activity.
The insurance policy can cover the medical bills that occurred because of injuries related to a motor accident.
If your motor vehicle is responsible for external property damage, the insurance can protect you financially.
Please note that the benefits you get from motor vehicle insurance strictly depend on the plans you choose. That's why we recommend purchasing a comprehensive motor insurance policy. It can protect you and your motor vehicle from many kinds of unfortunate and unexpected events.
Types of
Motor Insurance for Your Need
Motor insurance in the UAE is typically divided into two different categories. They are personal motor insurance and motor fleet or commercial motor insurance.
Personal motor insurance can be further divided into two separate categories.
Car insurance policies protect you and your cars or any personal four-wheelers from financial losses due to fire, natural disasters, theft, riots, third-party damage, accidents, and other unfortunate events. 
We at Prominent Insurance Brokers offer third-party liability insurance, collision insurance, and comprehensive motor insurance as a part of four-wheeler insurance.
Third-party insurance pays for any third-party damage or injury that occurred due to your vehicle. Collision insurance protects your four wheeler from accidental damages. Meanwhile, comprehensive insurance covers all losses like damages and injuries to you, your vehicle, and third parties.
The cost of the vehicle or car insurance depends on several factors like date of registration, engine type, previous policies, your own driving and accident records, etc.
Two-wheeler insurance, also known as bike insurance, plays a crucial role in protecting your bike or scooter. Prominent Insurance Brokers also offer third-party liability insurance as a part of two-wheeler insurance.
The cost of insurance will depend on the types of insurance policies you want to buy, your vehicle's condition, its purchasing date, your previous records of driving and accidents, and more. 
Apart from personal vehicles, the motor fleet or vehicles owned by you or your business that is used for commercial purposes also needs to have proper motor insurance. The motor fleet insurance or the commercial insurance policy can protect your commercial vehicles, such as buses, vans, trucks, and taxis, from unexpected events like accidents, fire, natural disaster, or other mishaps.
Motor fleet insurance policies at Prominent Insurance Brokers have third-party liability insurance, collision insurance, and comprehensive commercial fleet insurance.
Third-party liability insurance covers any damage done to a third party's or person's vehicle, property, or injuries inflicted on the third party because of your commercial vehicles. At the same time, the comprehensive insurance policy safeguards your commercial vehicles from fire, natural disasters, thefts, accidents, malicious activities, or any kind of liability.
The actual coverage will depend on the types of insurance policies you want to purchase and the number and details of your commercial vehicles.
Things to Know Before you Purchase or Renew Your
Motor Insurance Policy
Ready to purchase or renew your motor insurance? That's great, but you should know about this:
NCD : NCD or NCB, aka No Claim Discount or No Claim Bonus, is yet another commonly used term in insurance that you must know. In short, if you drive your motor vehicle responsibly and don't make any claim, you will receive a discount during the renewal of your motor insurance. This discount is known as NCD or no-claim discount.
To learn more about NCD, contact our experts at Prominent Insurance Brokers.
Sum Insured Value in the Policy : After purchasing a policy, you should verify the sum insured. The sum insured value is the maximum amount an insurer is obligated to pay out in the case of an insured loss. Knowing the sum insured value lets you know how much protection you have and how much your possessions are worth. In the policy document, the amount of coverage that is guaranteed to be covered will be specified.
Check the Add-on : Add-ons are additional features that can be included in the policy in order to increase the level of protection and coverage that the insured has. The additional coverage can provide the insured with additional peace of mind, as well as additional benefits. You are not obligated to get this at all, but, if the standard insurance plan does not meet all of your requirements, you have the choice to purchase this additional coverage instead.
Select the Best Service Provider : As you will be spending a significant amount of money to ensure your car is adequately protected, the quality of the services you receive is crucial. While doing business in this manner, it is prudent to work with a reputable service provider. Pay close attention to the company's claim settlement ratio, as this number reflects the promptness with which the organization handles claims.Companies with a solid reputation will provide good service at their large network of affiliated garages making cashless settlements easy.
Choose the Suitable Plan : It is important to choose an insurance plan that covers all the needs that you may have. Understanding the difference between third-party and comprehensive coverage will save you time and trouble. The third-party protection covers your legal obligation for bodily injury, death, or third-party property loss in an accident. On the contrary, a comprehensive insurance plan offers coverage to any own damages you may suffer.
How to Buy
Motor Insurance Online with PIB?
Buying motor insurance online with PIB is quite simple. Please register and get a quote for your necessary plan. Our experts will get in touch with you to give a detailed overview of the policy and make your online purchasing process easier. They will answer every single of your queries and help you understand what each insurance plan contains.

They will also assist you in finding the best insurance policy for your motor vehicles and give you a clear idea of the total cost of purchasing motor insurance. From this point onwards, you can choose the plans you need and seal the deal to safeguard your vehicle.
Hassle-free Claim Process with
Prominent Insurance Brokers
Our motor insurance policies come with a hassle-free claiming process. And you can do it online with a few simple steps.
Contact us or go to the "Motor Claims" option under the "Help" option in the main menu of the website.
Submit the necessary documents along with your name and contact details.
Our experts will go through the documents. If you have sent the correct documents, it won't take long before your claim is approved.
Finally, your repair, replacement, and even the liability cost will be covered by us up to the threshold limit of your purchased policy.
Frequently Asked Questions
About Motor Insurance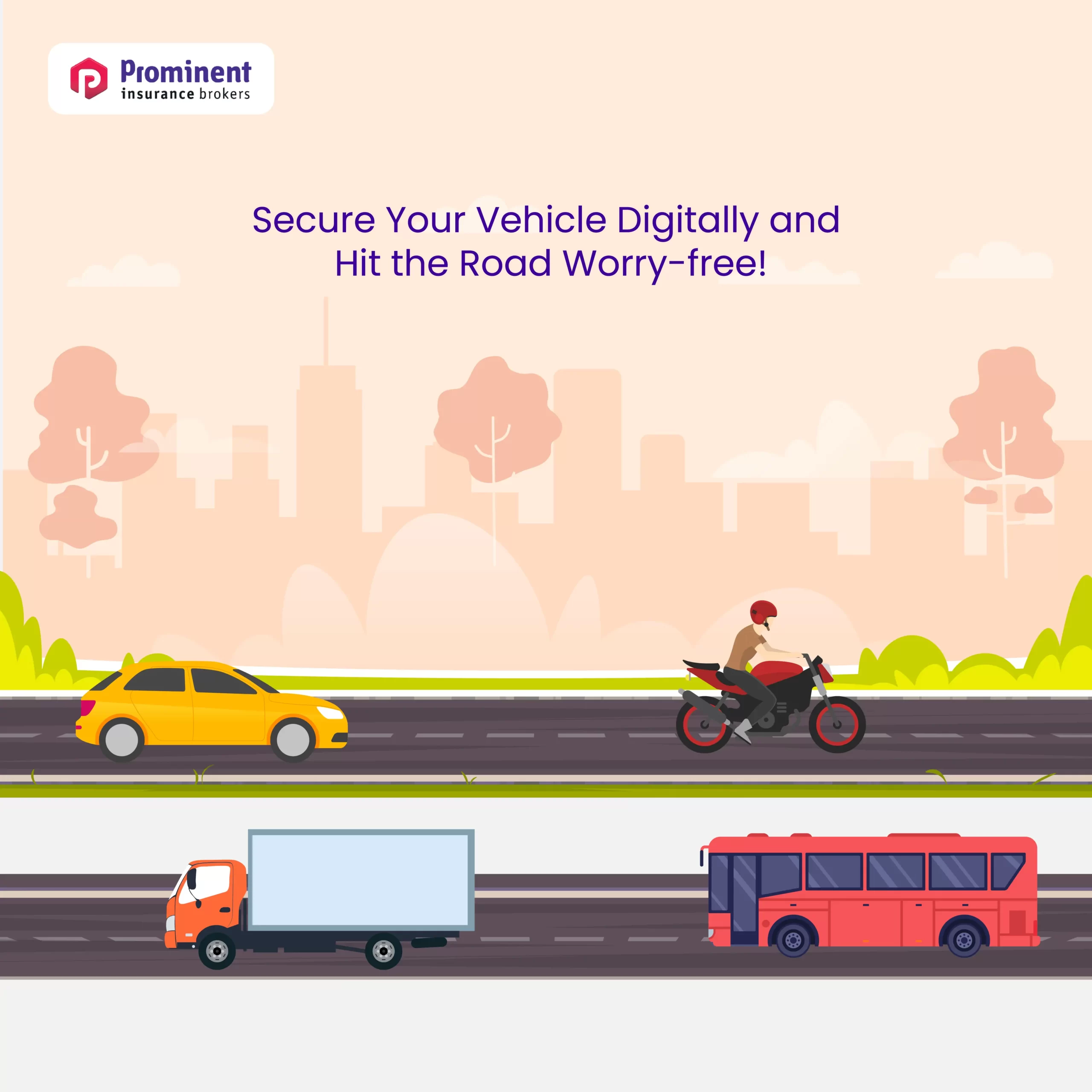 Disclaimer: The terms and conditions of your insurance policy depend on the type of policy you select and the add-ons you specify; please ensure you read the policy wording carefully.