Individual Health Insurance
Get the Best Insurance Plan that fits for your Need
Get a Quote for
Individual Health Insurance
What is
Individual Health Insurance?
Individual Health Insurance is an insurance scheme that covers all the expenses related to hospitalization and medical treatment for an individual person. Every individual above 18 years of age can buy this policy to get protection against medical emergencies.
Every member of your family can get personal health insurance to customize the plan according to their specific requirements. These plans are offered by most of the leading health insurance companies in the UAE.
Kinds of
Individual Medical Insurance Plans
There are several types of individual medical insurance plans available in the UAE. Every plan comes with different features and benefits. The common types of individual medical insurance plans in the UAE include the following:
Basic Medical Insurance Plans:
These plans offer medical coverage for regular inpatient services such as hospitalization, surgery, and emergency care.
Comprehensive Medical Insurance Plans
These plans offer coverage for both inpatient and outpatient treatments. The outpatient services include doctor's consultations, diagnostic procedures, and the cost of medicines. They also provide certain additional benefits such as maternity care, dental care, and vision care.
Pre-existing Condition Medical Insurance Plans
Most plans have a fixed waiting period to cover pre-existing diseases. But these plans offer coverage for pre-existing medical conditions that were present before purchasing the insurance policy.
International Medical Insurance Plans
These plans offer coverage for medical treatment and emergencies while traveling outside of the UAE.
Top-up Medical Insurance Plans
These plans provide additional coverage on top of an existing medical insurance policy. They supplement your primary health insurance coverage and offer enhanced protection if the basic sum insured gets exhausted.
Critical Illness Medical Insurance Plans
These plans offer coverage for critical illnesses such as cancer, stroke, kidney failure, heart disease, etc. The policy pays a lump sum amount and provides financial support immediately upon the disease being diagnosed
Personal Accident Medical Insurance Plans
These plans offer insurance coverage for bodily injuries, disability, and death due to accidents. They provide financial support to cover medical treatment expenses, loss of income, and any other costs associated with accidents.
Functions of an
Individual Health Insurance Policy
Individual Health Insurance Plans offer comprehensive insurance coverage to individuals for all their medical treatment expenses. The entire sum insured can be utilized for the benefit of a single person. The premium and coverage benefits are not shared with other family members. They can be customized according to your individual health requirements. These plans are ideal for people with higher health risks, such as senior citizens or individuals suffering from critical illnesses.
Benefits of a
Personal Health Insurance
The major advantages of individual insurance plans are listed below.
These plans cover all the significant expenses related to hospitalization and medical treatments. It protects you against financial hardships during times of serious health emergencies. You can access the best treatment without worrying about money.
The individual health insurance plans cover only one person who can avail of the complete sum insured amount. This feature offers the benefit of higher health insurance coverage.
A personal medical insurance plan helps you enjoy the benefit of cashless hospitalization. You can choose any hospital from the insurer's network and get medical treatment without paying money from your pocket. The payment is made directly to the hospital by the insurance company. If you choose a hospital outside this network, you cannot claim cashless treatments. You need to pay the bill first and then claim reimbursement from the insurer.
Individual health insurance plans offer you no claim benefits, if you do not make any medical claim in a policy year. It reduces the premium payable for the subsequent year(s)
Ideal for Senior Citizens
These plans are best suited for people facing higher health risks, such as senior citizens or people suffering from critical diseases such as cancer, heart ailments, etc.
Things to Know While Buying
Individual Medical Insurance
The following factors can help you buy the best individual health insurance plans in the UAE.
The individual health insurance plan must provide good coverage at an affordable premium. Buying an expensive policy to get higher coverage creates an unnecessary financial burden every year.
The plan should cover the cost of medical treatment as well as pre & post-hospitalization expenses. Covering incidental expenses such as doctor's consultations, diagnostic procedures, and ambulance charges helps to reduce the financial burden on policyholders. Check whether the plan covers daycare procedures that do not require hospitalization.
Claims Settlement Process
The objective of buying individual health insurance plans is to provide financial assistance during a medical emergency. Select an insurance company with a high claims settlement ratio (above 90%) and a simple procedure for filing claims. Check the waiting period for covering pre-existing diseases.
Select an insurance provider with a wide network of hospitals. It helps you get the benefit of cashless treatment. But you need to pay the medical bill and then claim reimbursement for services availed at non-network hospitals.
Preventive Health Checkups
Choose an insurance plan that provides free annual health checkups. It helps you monitor and keep a close tab on your health. Serious medical emergencies can largely be prevented with timely intervention.
Select a personal healthcare insurance plan that covers maternity expenses if you are planning for the same in the near future. The plan should ideally cover outpatient expenses too.
Insurance companies specify a minimum waiting period for pre-existing diseases. You get insurance coverage for these diseases only after this period is over. So choose a policy with a minimal waiting period.
Why Do You Need
Individual Health Insurance?
An increase in lifestyle diseases and skyrocketing medical treatment costs have made it imperative to buy health insurance today. The UAE offers high-quality healthcare facilities to its residents. But it is quite expensive to get the benefit of these medical services. 
Individual Medical Insurance provides complete financial support to enable you to get the best treatment during an emergency. They help you avoid financial hardships during stressful times. These plans are comprehensive and can be designed to suit your specific healthcare needs.
How is the Insurer Going to
Pay Your Hospital Bills?
The insurer provides a cashless treatment facility at any of its network hospitals in the UAE. Your medical bills will be settled directly between the hospital and the insurer. You do not need to pay any money from your pocket. For medical treatments at any of the non-network hospitals, you must pay the bill first and then claim reimbursement from the insurer.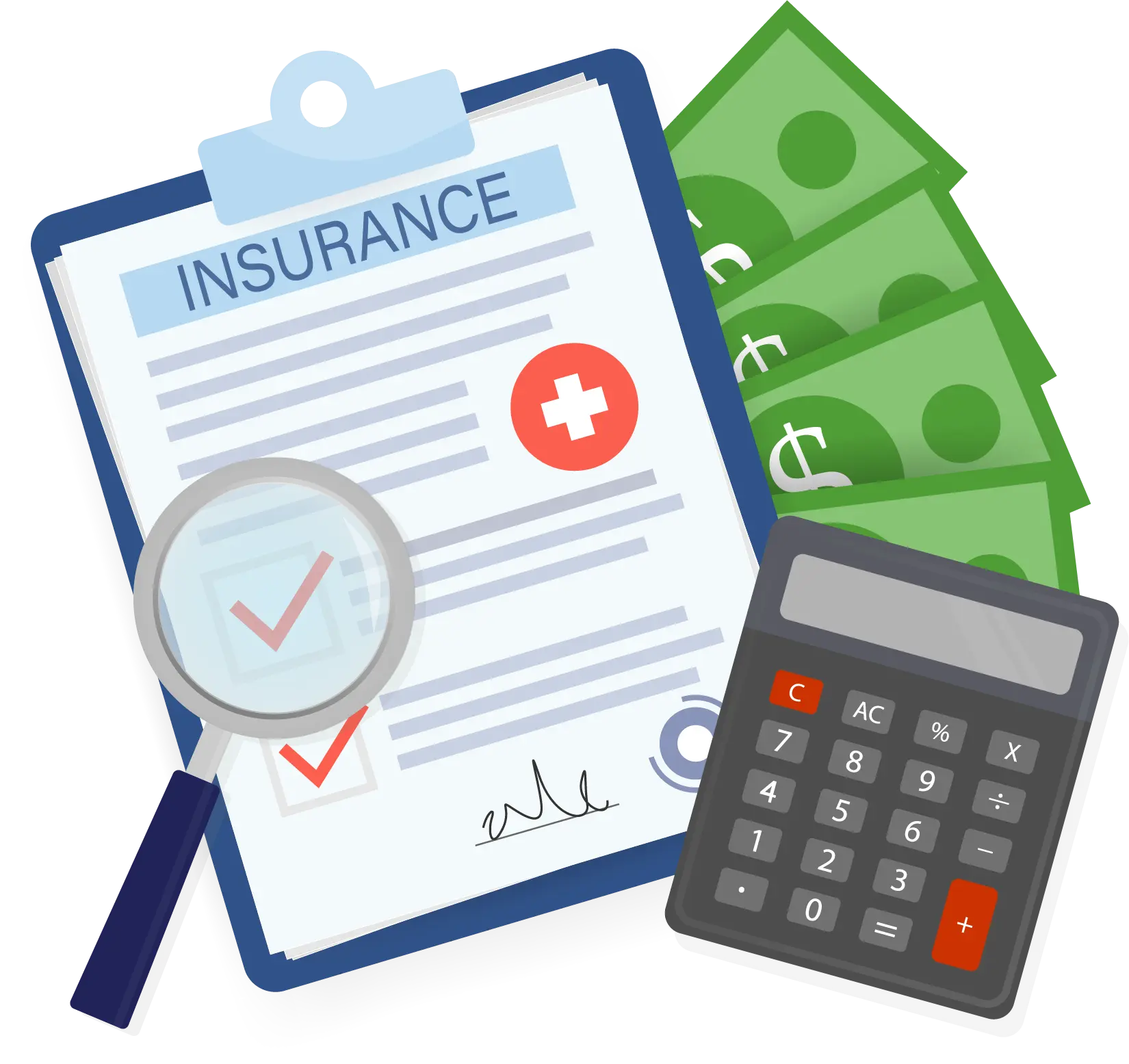 What Do You Know About
Network Hospitals?
Every insurance company forms a network of hospitals, clinics, and medical professionals. The policyholders shall get this list when they buy medical insurance policies. So the list of hospitals and clinics where they can avail of a cashless treatment facility is known as network hospitals.
This does not mean that you should select a hospital only within this network. You can also choose other hospitals. For hospitals outside the network, the policyholders do not get cashless treatment facilities. But they can pay the hospital bills first which are later reimbursed by the insurers.
Documents Required for
Individual Health Insurance UAE
The following documents are essential to apply for individual health insurance plans in the UAE.
Passport-Size Photographs
Contact Details of the Doctor
How to Buy
Individual Health Insurance Online?
Please follow these simple steps to purchase an individual health insurance policy online.
Visit the official website of Prominent Insurance Brokers. Enter your details in the individual health insurance quote form.
Once you provide all the required details in this form, click the 'Submit' button.
One of our executives will soon get in touch with you. You will be guided by our team to buy the best individual health insurance plan. You can instantly make an online payment.
You can also click on the Whatsapp icon on this page and chat with our team members. They will guide you step-by-step to buy the policy online.
Frequently Asked Questions on
Individual Health Insurance Dubai
Disclaimer: The individual health insurance plan may have limitations, exclusions, and other terms and conditions that may affect coverage. It is important to carefully review the policy wording before making any decision. The information contained in this article is gathered from sources deemed to be reliable & trustworthy. Prominent Insurance Brokers cannot be held liable for any errors or omissions with regard to the information presented here